With the powerful Typhoon Saola barelling toward the Asian financial hub of Hong Kong and the Chinese province of Guangdong, nearly 800,000 people have been evacuated while hundreds of flights remain cancelled on Friday.
The super typhoon, with windspeed of around 200 kph, could make landfall late on Friday or early on Saturday in Guangdong, with the authorities warning that it could be among the five strongest storms to hit the populous province since 1949.
In Hong Kong, hundreds of people were stranded at airports after about 460 flights were cancelled. All flights to and from Hong Kong between 2 p.m. (0600 GMT) on Friday and 10 a.m. (0200 GMT) on Saturday have been cancelled, as per Cathay Pacific, the city's flagship carrier. The start of the school year in Hong Kong was also postponed to next week, with trading in the stock market being suspended .
The typhoon has also led to suspension of rail services in the region. According to China's state television CCTV, no trains would be allowed to enter and leave the province starting from Friday night till Saturday evening.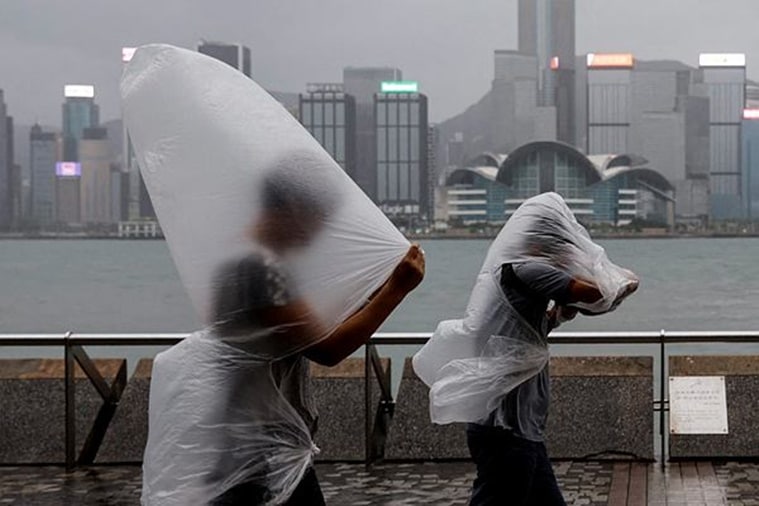 People brave strong winds as Super Typhoon Saola approaches, in Hong Kong, China September 1, 2023. (Reuters photo)
The typhoon is expected to make landfall from Huidong County to Taishan city in Guangdong province late on Friday or early on Saturday, with China's National Meteorological Centre saying that the storm could also move west near central Guangdong.
It would be nearest to the financial hub Hong Kong at around midnight, about 40 kilometres (25 miles) south of the city's Tsim Sha Tsui shopping district.
As Hong Kong prepared for Saola's landfall, around 330 people took refuge in temporary shelters, with ferry and bus services halted in the city. People residing in low-lying areas placed sandbags at their doors to prevent flooding  in their homes.
The Hong Kong observatory has issued a No. 9 storm signal for Saola, which is the second highest warning under the city's weather system. The observatory's  director Chan Pak-wai said there are chances of the alert being upgraded to a No. 10 storm signal if the winds gained further strength.  The last time a No. 10 hurricane warning was issued in the city was when Super Typhoon Mangkhut hit Hong Kong in 2018.
Warning that the maximum water level might be similar to when Mangkhut felled trees and tore scaffoldings off buildings in the city, the observatory also said that there might be serious flooding in the coastal areas.
However, Chan said that the winds are expected weaken gradually  on Saturday when the typhoon moves away from Hong Kong.
Hong Kong weather officials confirmed that the weather is expected to deteriorate as the typhoon makes landfall, with storm surges of about 10 feet higher than normal tide. Saola's eyewall, moving across the city at around 8 am, has resulted in heavy rains in the region.
Weather authorities in Macao – a gambling hub near Hong Kong – also issued a flood warning, forecasting that water levels might reach 1.5 metres (5 feet) in low-lying areas Saturday morning. The cross-border bridge connecting Hong Kong, Macao and Zhuhai was also closed.
Workers tape a storefront as Super Typhoon Saola approaches, in Shenzhen, Guangdong province, China September 1, 2023. (Reuters photo)
In the south-eastern Chinese city of Shenzhen, work, businesses and public transport were suspended with the typhoon expected to hit the city or nearby areas on Friday night. The highways were restricted to the use of rescue crews of the city.
Saola passed just south of Taiwan on Wednesday before it took a turn towards mainland China, with its outer bands hitting the island's southern cities with torrential rain. The typhoon also lashed the Philippines earlier this week, displacing tens of thousands of people in the northern parts due to flooding.
China has experienced some of its heaviest spells of rain and flooding in years in recent months, with many losing their lives in various regions, including in the mountainous parts of the country's capital Beijing.
(With inputs from AP and Reuters)


If you want to register your marriage in thane visit : https://marriageregistrationthane.com/court-marriage-registration-in-thane

Source link